HEAVEN UPSIDE DOWN- MARILYN MANSON
American rock band Marilyn Manson released 'Heaven Upside Down' as their 10th album. This release was on 6th October 2017 with the help of Loma Vista Recordings as well as Caroline International. The recording got done in Abattoir Studios in Studio City, California. As of September 11th, 2017, the band released 'We Know Where You Fucking Live' as the album's leading single. Nine days later, they released another single known as 'Kill4me'.
The songs found in this album fall into the categories of gothic rock, heavy metal and industrial metal and the songs run for a total of forty-seven minutes and twenty-nine seconds.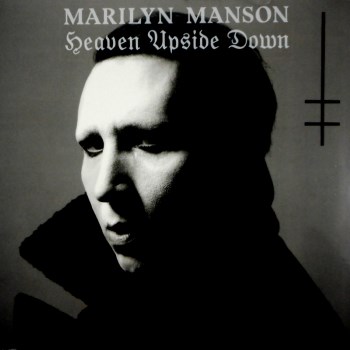 Band Members

Marilyn Manson – Lead vocals
Tyler Bates – In charge of instruments, recording, engineering, mixing, and production
Gil Sharone – Drums

Additional musicians


Dana Dentata – Backing vocals
Roger Joseph Manning – Clarinet
Technical members

The band has people to help out in various aspects of performance. They are Emma Banks, Robert Carranza, Tony Ciulla, Chris Dalston, Joanne Higginbottom, Olivia Jaffe, Brian Lucey, Perou, Rick Roskin and Brian Roettinger.
Tracklisting

All the lyrics in the songs got written by Marilyn Manson, and the music gets composed by Tyler Bates.
Release
This album was due for release on Valentine's Day, but this did not happen. When interviewed, Manson explained that many factors had led to the delay. Apart from scheduling issues, the band also battled with poor record quality and the death of his father on 7th July 2017. 'Heaven Upside Down' is dedicated to his late father.
Bates, the producer, also stated that the band's touring schedules affected the release of the album. Three tracks got recorded after the original release date of February 14th. The name of the album was also changed from 'SAY10' t0 'Heaven Upside Down.'
Manson says that 'Heaven Upside Down' resonated more with him because of the idea of time being a flat circle that is defined by negative space.
Before the release of the album, Manson posted several videos to his Instagram page. The first one got posted on March 22nd. Other videos got released after that featuring hooded figures, air-raid sirens as well as distant screaming. The album finally came out on 6th October, finally putting an end to the waiting period.
Commercial performance

On the Billboard 200, this album was ranked eighth. It had thirty-five thousand album-equivalent units, thirty-two thousand of which were album sales. These sales made it the seventh in the top ten albums in the chart. The collection also ranked first in the Top Hard Rock Albums charts and second in Top Rock Albums charts as well as Top Album Sales.
Critical reception

ADM Rating

ADM Rating -

6.2/10



Upon its release, the album was well received by music critics. After fifteen reviews on Metacritic, the record scored seventy-one out of a possible 100. In AnyDecentMusic, it has a rating of six points two out of a possible ten.
Metal Injection's Greg Kennelty praised the consistency of the album, saying that it was one of the most engaging albums he had listened to all year.