Arch Enemy, a Swedish death metal band, released Will to Power as their 10th studio album on 8th September 2017. The album got released by Century Media Records was produced by Michael Amott and Daniel Erlandsson.
Interestingly, this is the first album that the band has produced featuring guitarist Jeff Loomis who joined the group in 2014. It is also the first album in which the band features clean singing to be the lead vocals. It is such firsts that make this album all the more special. They last released an album, War Eternal, in 2014.
Recording of the songs in this album took place between 2016 and 2017 and the songs fall into the category of melodic death metal. The record runs for a total of fifty minutes and thirty-two seconds.
Top singles in this album are 'The World is Yours' which got released on 14th July 2017 and 'The Eagle Flies Alone' which was released a month later on 25th August 2017.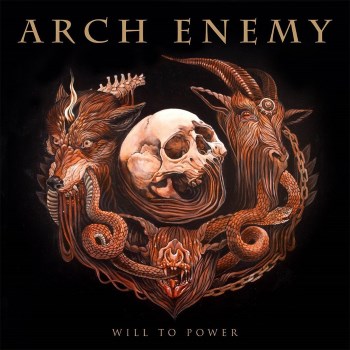 Band Members

Alissa White Gluz – Lead vocals
Michael Amott – Lead vocals & Rhythm guitar
Jeff Loomis – Lead guitar
Jeff joined the band in 2014. This album marks his first appearance on the band's albums. He does a tremendous job with the guitar.
Sharlee D'Angelo – Bass
Daniel Erlandsson – Drums, Keyboards & Programming
Additional musicians

Some musicians were instrumental to the success of this album. They include Jens Johansson, Christopher Amott, Henrik Janson, Ulf Janson and Stockholm Session Strings.
Production Team

This album would not have been a success had it not been for a dedicated production team.
Michael Amott – Michael was in charge of the production of the album.
Daniel Erlandsson – Not only was Daniel involved in the engineering aspects of the album but he also took part in the production process.
Johan Ornbog – He played his part by ensuring that the engineering of the drums went on as planned.
Staffan Karlsson – He ensured that the production and engineering of vocals got done optimally.
Linn Fijal – He was in charge of the engineering of strings.
Jens Bogren – Jens was in charge of mixing and mastering sides of the album.
Alex Reisfar – He was in charge of the cover art of the album.
Costin Chioreanu – Costin dealt with both the artwork and the layout of the album.
Katja Kuhl & Tom Couture – Both worked on the photography aspect of the album.
Critical reception

ADM Rating

ADM Rating -

5.7/10



The album was well received, ranking third on the US Top Hard Rock Albums Billboard. On the US Top Rock Albums Billboard, it ranked fifteenth.
The band's three-year break seems to have added onto their creativity as well as their energy, and other high-quality albums are expectable from them.